Patriot Website Design
Hi!  I'm Kolleen, the proud wife of a US Air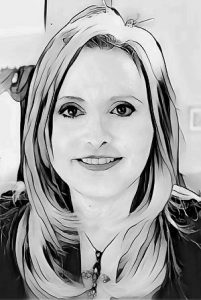 Force Veteran.  I've been designing websites for over 20 years.  Patriot Website Design is a creative and professional freelance web design agency located in Kuna, Idaho. I provide custom website design services and website redesign.  All of my work is done in-house and is never outsourced.
My work history started in Mechanical Drafting and design back in the pencil drawing days. I then learned  Computer Drafting in the 1980s, and eventually started my own Drafting and CAD vocational school. After 11 years of being the Director of my School and becoming Nationally Accredited, I sold the school to embark on something new – website Design.  I cranked out my first websites on AOL in 1996 when that was our only internet. I learned to hand-code HTML and eventually CSS came along to control it all. I love designing websites because of the way they are made is constantly changing and I love learning!
Like it or not, people will always judge a book by its cover. That's why your image is so important in marketing your business. I combine over 20 years of experience with the best quality and design to show your business or organization's face to the world. Whether you are a large conglomerate or a Mom n' Pop shop, I have the perfect strategy for your company branding and budget.
Every client receives individual attention on their website design or redesign project. We will work together to design a website as individual as your business is, focusing on the best you have to offer your customers.
Web design is always advancing and I am constantly taking new courses, buying the latest software application and researching the newest Search Engine Optimization strategies. Every day I learn something new so I can offer you the finest possible service to my clients.
I do all of my work with cutting-edge innovation. Put your design project in my hands and I will design it with just what your business needs to grow online. With a national clientele that varies from the building trades to medical professionals, attorneys, book publishers and many others, I understand design thoroughly and know when to be mild and when to be extravagant.